Banregio grants job opportunities for UANL students
January 6, 2023
UANL students will be able to receive training focused
Under the cooperation agreement with Banregio, UANL students will be able to receive training focused on the needs of the banking institution in areas such as programming, artificial intelligence, and data analysis.
Universidad Autonoma de Nuevo Leon and Banregio announced an academic, scientific and technological collaboration project for the development of human capital.3
The agreement signed for the first time at the UANL Office of the President is a collaboration that will benefit UANL students whose plans upon graduation include working at this bank.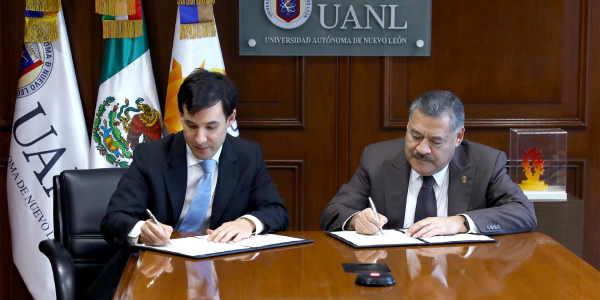 "They found an ally in the UANL so that students can obtain specialized training in the areas they want, and when they graduate, students will see in Banregio a good employment opportunity in the areas mentioned above," he added.
According to the Maximum Academic Institution in the State, the students who could benefit the most are those who attend the Schools of Mechanical and Electrical Engineering, Physics and Mathematics, and Accounting and Business Management.
The aim of this agreement is to enable young university students to obtain a scholarship during their professional training and to apply for calls for the development of projects related to the needs of this bank.
"We as a University are going to help Banregio since graduates who are interested in having a career opportunity with the bank will be able to learn the extra knowledge they need," said Mohamed Noriega.
The signing of the agreement was held on November 3 by UANL President Santos Guzmán López and the President of the Regional Group and CEO of Hey Banco, Manuel Rivero Zambrano.

"We thank you for your trust in our institution and know that you can count on us for the training and updating of your projects or even if you are looking for any improvement. We are certain that our students will enter the labor market with an excellent level and that your business will also benefit".

Santos Guzman Lopez
UANL President