UANL assists SMEs in Nuevo Leon with finance consulting services
January 17, 2023
At the meeting held at the UANL World Trade Center, UDEM, ITESM and Universidad Regiomontana, SMEs were able to get advice on the best financial options for their growth.
Universidad Autonoma de Nuevo Leon inaugurated, at the World Trade Center Monterrey,  Café con bancos, Sofomes y fintech, an event held in collaboration with Consejo Nuevo Leon and the Ministry of Economy of Nuevo Leon.
The event, which seeks to inform SMEs about the different financing options available for them, had as its main guest the UANL President, Santos Guzman Lopez, who was joined by the Head of the WTC Monterrey, Eugenio Reyes Guzman.
Through projects and programs that contribute to the better organization and development of businesses, the WTC has made great strides in the SMEs of Nuevo León, under the SBDC model. This reaffirms the UANL's willingness, with the triple helix, of promoting the creation of better tools to help boost the development of Nuevo Leon and the country.

Santos Guzman Lopez
UANL President
Outcomes
According to the UANL President, the World Trade Center Monterrey has managed to improve the presence of SMEs in the state, since the advisory process provided by this center benefits everyone involved, from the financial sector, with the generation of resources, to the government and civil society, with the support of its 150 advisors.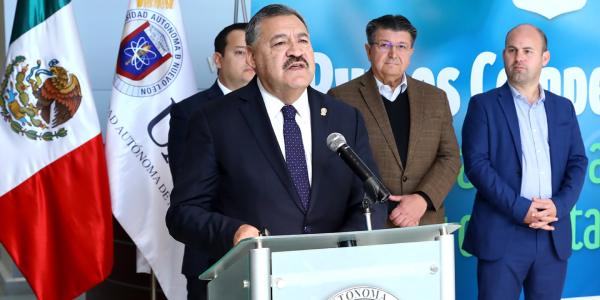 "We are making very important changes. How wonderful that in Nuevo León we are forerunners of a model that supports SMEs. We can even talk about generating close to 6,000 jobs among all the SMEs that participate in our programs," he said.