UANL and Ternium honor graduates
September 14, 2023
Fourteen graduates of engineering and steel industry-related programs were awarded the first Ternium-UANL Academic Excellence Award.
Just a few months ago, Universidad Autonoma de Nuevo Leon and Ternium forged a partnership to recognize students' academic excellence across various fields related to engineering and the steel industry. Today, this partnership has become a reality.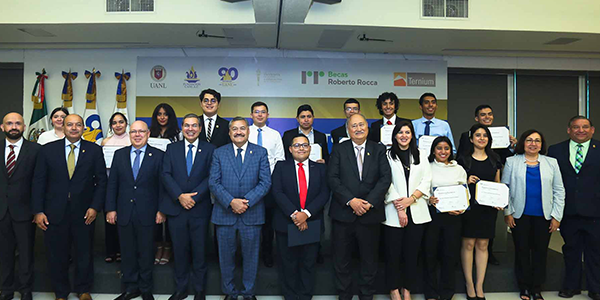 As part of the University's 90th-anniversary celebrations, UANL President Santos Guzman Lopez and Cesar Alejandro Jimenez Flores, President of Ternium Mexico, jointly presented the inaugural Academic Excellence Award. This prestigious award was bestowed upon fourteen students from three schools within the State's Maximum Academic Institution. These students earned top honors in their respective graduating classes and successfully completed their studies.
The awarded students followed courses at the School of Mechanical and Electrical Engineering, the School of Chemical Sciences, and the School of Earth Sciences.
"For UANL President Santos Guzman, the undergraduate academic achievement award represents just one step in the students' professional journeys. He encouraged them to further their education by considering enrollment in one of the University's postgraduate programs".
Supporting community growth
Cesar Alejandro Jimenez Flores, president of Ternium Mexico, mentioned that the Ternium-UANL Academic Excellence Award is a recognition of the academic performance and effort of fourteen students in the last year.
On behalf of his classmates awarded at the ceremony, Hugo Alejandro Moreno Montalvo, a graduate student of the School of Chemical Sciences, thanked the authorities of the UANL and Ternium for the distinction granted and for the incentive in the working field that is offered by this award.
Ternium-UANL Educational Excellence Award Winners
Alexandra Brondo Gutiérrez
Naomi Astrid Betancourt Martínez
Hiram Asahel Partida Villarreal
Felipe Jafet Cano García
Diego Alejandro Hernández Ponce
Adrián Ortega Contreras
Gerardo Villarreal Ramírez
Jesús Alejandro Montañez Montalvo
Hugo Alejandro Moreno Montalvo
Raymundo Martínez Guzmán
Katia Guadalupe García Álvarez
Miroslava Silva Oviedo
Odalys Edith Barba Uribe
Diana Azusena Galván Landeros
Posted by: Portal Web UANL