Autenticos Tigres make their mark at NRG Stadium
September 14, 2023
The UANL team won the 91st Clasico vs. Borregos Salvajes with a score of 13-10 on the first matchday of ONEFA's Major League
In the final 58 seconds, Reynaldo Blanco clinched victory for UANL Autenticos Tigres with a 44-yard field goal, securing a 13-10 win over Borregos Salvajes from Tecnologico de Monterrey at Houston's NRG Stadium in Texas.
Even though the game was held in Houston, UANL enjoyed tremendous support from a sea of fans who transformed the NFL stadium's stands into a mesmerizing display of yellow and blue. It marked an unforgettable kickoff to the ONEFA Major League season.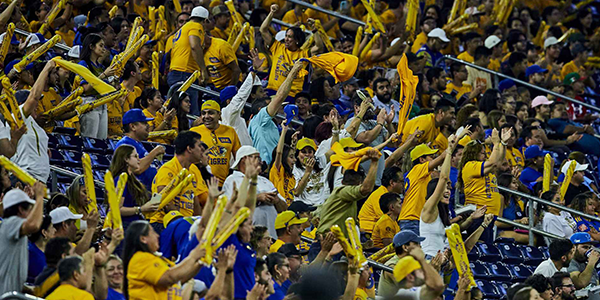 "Being in another country, it's extra motivation. We play for our fans, aiming for victory to make them happy, just as we are," said Reynaldo Blanco, Authentic Tigers' kicker number 42.
The victory was truly memorable as it marked the first-ever Clasico Estudiantil played outside Monterrey, taking place on September 8, in celebration of ITESM's 80th anniversary and UANL's 90th anniversary.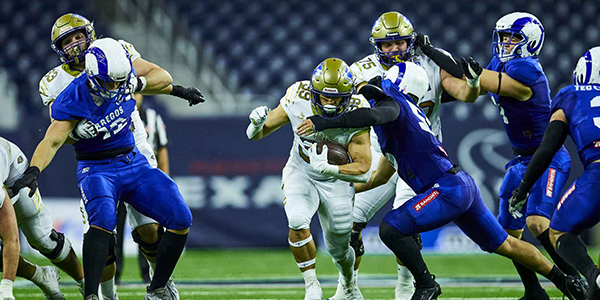 Following the victory, Coach Antonio Zamora's team claimed the trophy, raising it alongside UANL President Santos Guzman Lopez, and celebrating heartily with hundreds of fans.
"You make us really proud. Being here on this fantastic stage and winning today is amazing. I just want to thank and show my respect to all of you. Your hard work is why we're celebrating this victory," said the UANL President, genuinely moved.
Guzman Lopez expressed his gratitude to the Auténticos players and fans, acknowledging the opponents' performance and the Tec de Monterrey authorities for hosting the first Clasico outside the Monterrey metropolitan area.
"I want to express my gratitude to my players for their unwavering focus on playing football and earning those crucial points on the scoreboard. Despite numerous external factors that could have been distracting, we had the privilege of exceptional facilities," stated the head coach of the ONEFA Major League.
Posted by: Portal Web UANL